Mt. Massive Golf Membership Options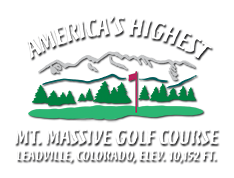 Our 2016 membership rates are shown below. Club Members enjoy unlimited golf with no date or time restrictions. We welcome any questions you may have. For additional information, please email [email protected] or call us at 719-486-2176. We look forward to hearing from you!
RESIDENT / PROPERTY OWNER
Single 325 before 5/1/16, 360 after
Family (2-4 ppl) 550 before 5/1/16, 625 after
Senior* 315 before 5/1/16, 345 after
Senior Cpl* 480 before 5/1/16, 525 after
Junior (<=18) 125
NON-RESIDENT
Single 350 before 5/1/16, 375 after
Family 575 before 5/1/16, 650 after
LIMITED ACCESS
(available to individuals only after June 1)
Weekdays, walk-in only, no advance booking 275
Any day, after 4 PM walk-in only, no advance booking 250
All members (except Juniors) are required to contribute $1 to our Water Fund each nine holes they play or purchase a season long water fund pass ($50, single - $75 family). The Water Fund is used to pay irrigation water lease costs and related legal and engineering fees.
* Family membership is maximum 4 people, immediate family only, no age or residency restrictions
** Senior age is 65
Request More Information